Pressure washers are helpful tools for almost anything, from cleaning deep-seated dirt and oil to removing paint. But buying the wrong brand might cause more trouble than help. How will you know that what you're buying is right for you?
Don't worry; we got you covered. We tested some of the most popular brands today to see which stand out. You can use our suggestion to determine which model can help do your cleaning tasks.
Types of Pressure Washers
Before giving you our top picks for the best pressure washers in 2022, you have to know their different types. Each type has its own pros and cons that you must consider.
Gas Pressure Washer
Pros: This kind works best for heavy-duty cleaning. In minutes, it can clean big surfaces like decks, walls, and driveways. It can easily loosen up glued materials like chewing gum, resin, and grease. With high pressure, a nozzle set at a wider angle will clean just as effectively as the nozzle set at a smaller angle.
Cons: Don't choose this if you live in an apartment building as it works loud. Prolonged use can overheat the pump, potentially destroying the equipment if the safety valve malfunctions. If you're in the colder region, winterizing the pump is a required. To use a pressure washer again after winter, you must antifreeze it. More power means a greater chance of injury, plus irreversible damage to any surface the water can get in contact with.

Electric Motor Pressure Washer
Pros: Ideal for small spaces like decks, outdoor furniture, and other minor chores that only need regular rather than deep cleaning. This type is light and works silently. It has a very minimal maintenance cost and does not produce toxic fumes. It is simple to set up and use. No need to winterize the washer, and you can safely keep it inside your house. Its compact size makes it easier to store.
Cons: The lower pressure level makes cleaning longer. Wands and nozzles are made of plastic which can wear out quickly. You cannot use this type in bigger spaces since the power cable and the hose have a short reach.
Battery-Operated Pressure Washer
Pros: This machine is powered by a lithium-ion battery which is powerful enough to clean using a standard garden hose. It produces low pressure, making it a good choice for light chores like washing the car. The batteries used in this tool can occasionally be used to power other products from the same brand, such as cordless drills.
Cons: A battery-powered pressure washer is not meant for hard-to-clean materials like grease or to remove paint. The pressure level can only reach up to 500 pounds per square inch, which is very low compared to the first two types.
Top-rated Pressure Washers
Let's jump into our top five picks this year.
Ryobi RY142300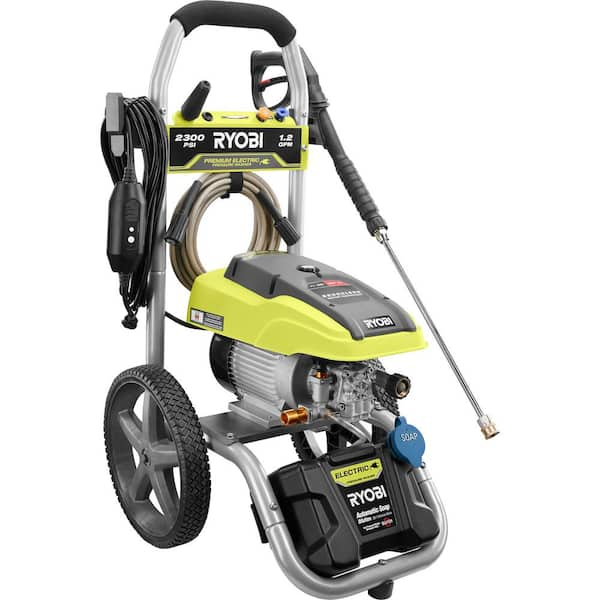 This electric type model is ideal for home cleaning since it is easy to use and maintain. With proper use, its motor can last for years. Its weight makes it difficult to tip over while pulling the hose. This solid construction plus big wheels and cable and excellent hose quality make this brand simplest to operate. The three-year limited warranty is also one of the extended markets today.
This pressure washer is more expensive than other brands. However, it's totally worth it if you expect to use it three or more times each year.
DeWalt DWPW2400
This brand is a cold-water pressure washer, is another brand to consider. This model is like in Ryobi in a lot of ways, including the design, brushless motor, and power level and performance.
DeWalt offers some advantages that are not available with Ryobi. It comes with two or more nozzles for more spray choices, a water tank that can be monitored easily, and large tires for maneuvering the machine through slopes.
The main drawbacks are that the cable wrap is difficult to access and use, and the spray wand holder is useless.
Sun Joe SPX3000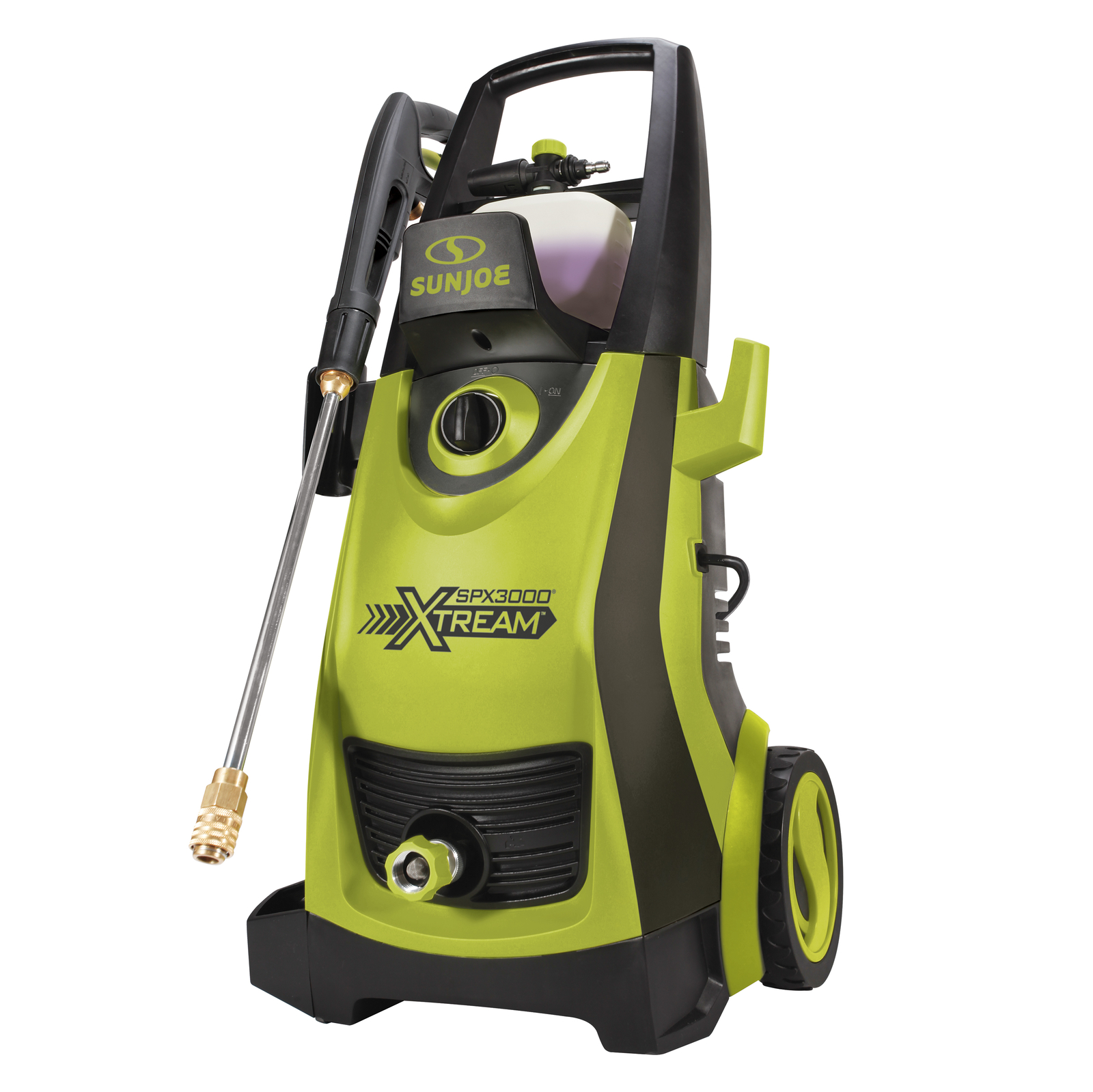 Sun Joe SPX3000 is an electric pressure washer that is an excellent choice if you have a limited budget or intend to use it only once or twice a year. This brand cleans almost the same way as the Ryobi RY142300 but is $150 cheaper.
However, Sun Joe has a shorter hose, a low-performing engine, smaller wheels, and a shorter warranty period. The machine can be easily tipped over. It has a larger number of spray nozzles than the other budget versions. This power washer also includes a sturdy metal spray wand and handy hose and cable storage, similar to the RY142300.
Ryobi RY1419MTVNM
You can use this electric type if you don't mind moving a pressure washer everywhere. It's more compact and has less power compared with other brands but good enough to tackle most chores, although longer. It weighs just over 9 kg and has a top handle, making it small enough to be carried in a duffel bag. Ryobi RY1419MTVNM has wheels and an extended handle, similar to luggage. However, the wheels are tiny and struggle to navigate on uneven grass.
This pressure washer has a hose with a length similar to the previous three. But it doesn't have a high-end induction motor and other vital components.
MSH3125 MegaShot
Despite being very expensive, we believe that the machine's remarkable power justifies the price. The device contains five quick-connect spray tips, a PSI of 3,200, and a GPM of 2.5, in line with professional-grade equipment. For home use alone, this is over the top and not recommendable.
However, this is a great investment if you need a cleaning tool for business or if you will use it often. This is an excellent choice for any DIYer who values performance and strength above all else.